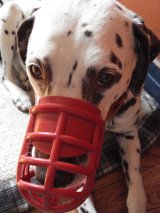 A couple weeks ago we had to euthanize our dog Liver. She had a brain tumor and was in a lot of distress.
As those of you who met her will know, Liver was a high-strung and difficult dog; it's appropriate that she's wearing her muzzle in the only photo I have to hand.
Now, though, is not the time to discuss Liver's deficiencies. Despite her fears and consequent overuse of the fang, she had many of the qualities that bind people so closely to their dogs: enthusiasm, boundless joie de vive, eagerness to please, and unquestioning loyalty. Like many dalmatians, she was a clown (if often by mistake); and she is the only dog I've met who would come give me attention if I was crying — as if she understood.
So, rest in peace Liver. We miss you.